Back to all posts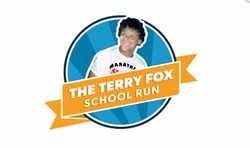 This year Iron Ridge Elementary Campus will be participating in the 2019 Terry Fox School Run on September 20th.
We are proud to work with the Foundation towards Terry's vision of 'a world without cancer'. We also look forward to encouraging our students to 'Be like Terry' by fostering his values of determination, courage, perseverance and compassion. 
In the past, students have demonstrated an incredible spirit by setting a school wide goal. This year the goal is $3000in October.  We will NOT be handing out pledge forms for students to take home.  Funds will be raised in the following ways:
Toonies for Terry-Students can bring money directly to their classrooms or the office. Receipts will not be issued for cash brought into the school. If you need a receipt, please donate through your Parent Portal or through the Terry Fox Foundation website. 
Parent Portal-Parents can go online and make a donation through the Parent Portal online. A receipt will be issued as would normal online transactions. 
Terry Fox website at http://www.terryfox.ca/IronRidgeElementaryCampus. From here family and friends can donate by sponsoring a student or making a general contribution to the school. All online donations of $20.00 or more are automatically receipted, cutting down on the Foundation's administrative costs and leaving more funds for life-saving cancer research. 
Personal Fundraising Page-Students have the option of setting up a page to send to family and friends, which gives them the option to track their fundraising and makes it easy for others to donate to them. Go to terryfox.org > terry fox school run > create a new fundraising page. 
We strongly encourage students to ask close friends and family for their support. We do not encourage students to go soliciting for money from strangers. Funds will be collected until October 4th. If you have any questions, please feel free to contact your child's teacher or the school at 403-885-4646.
 Thank you for your ongoing support for this great cause.