Music
Music Program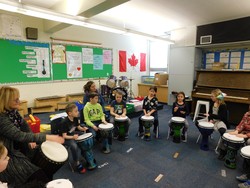 At Iron Ridge Elementary Campus, students are exposed to variety of musical experiences such as singing, creating rhythms and songs, creating and engaging in movement activities, and playing a wide variety of instruments including the Orff instruments, African drums, boom whackers, children's hand bells, and recorders .
Students will develop:
enjoyment of music
awareness and appreciation of a variety of music, including music of the many cultures represented in Canada
insights into music through meaningful musical activities
self expression and creativity
musical skills and knowledge
In Pre-Kindergarten and Kindergarten students gain music knowledge by integrating speech, song, movement, instrumental play, and improvisation. Students are encouraged to develop a greater understanding of beat, rhythm, melody, and harmony. Students will use their musical skills in a creative way, building confidence, and self-esteem.
The grades 1-3  students receive 2 -40 minute music periods a week from our very talented music specialist Mrs. Holoboff. They gain musical knowledge through active involvement in singing, speaking, moving, listening, and playing various instruments. Students are also introduced to the reading and writing of musical notation integrating rhythm, melody, harmony, and dynamics. Students in grades 1-3 begin to play musical instruments such as xylophones, metallophones and recorders.
Performing Arts: Our students have several opportunities to share their learning with the school community. Students perform at school assemblies, concerts, community locations around town, music festivals and in collaboration the the Red Deer Symphony Orchestra.