Pre-K
Pre-K Bright Futures Play Academy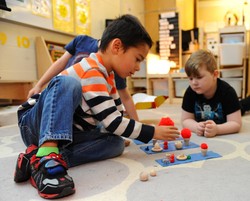 Wolf Creek Public Schools is pleased to offer a pre-kindergarten program, for three and four year old children, called Bright Futures Play Academy. In our community of Blackfalds this program is housed in the Iron Ridge Elementary Campus. Our current enrollment is approximately 100 students in 7 classes. For more information, please click here.
"The boys have made huge improvements in your program and class.
I was on the fence at the beginning because I thought 3 was too young but it has
been the best experience for them and us as parents."
Sincerely,
Jennifer and Lanny M.
Kindergarten & Pre-Kindergarten Family Orientation Event
The Iron Ridge Elementary Campus provides a community event each spring to help prepare pre-kindergarten and kindergarten children for a positive start to their school journey. Parents/caregivers and their children attend this community event at Iron Ridge Elementary Campus where they receive early learning and literacy resources, and learn how to use them at home. This orientation event establishes a foundation for positive relationships between parents/caregivers, teachers and community agencies that set the stage for a smooth transition to school and future success.
This event is a parent/caregiver engagement strategy that brings together parents, children, schools and community service agencies to achieve the goal of giving parents/caregivers the strategies, resources and support necessary to make early learning activity and play a priority in the home. Starting school is an exciting time for families!