Back to all posts
Posted on
F.I.R.E.S. Read-A-Thon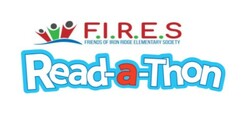 Join Us for Read-A-Thon 2021
The best part of a Read-A-Thon is that 100% of the money collected will be used at our school for our children!
With this fundraiser, we are raising funds for the school for ongoing extra expenses such as Chromebooks, and other needs. All students are strongly encouraged to participate in order to make this a fun and profitable fundraiser for our school. Any pledge amount is welcome!
Read-A-Thon Rules:
Sponsor Forms should be used to track your sponsors and how much they have pledged to donate.
Start recording your reading minutes on Friday, Oct. 15th. Hand in papers Friday, Oct.29th.
The Minute Recording Sheets must be used to keep track of how many minutes OUTSIDE of school you read each day.
Parents must sign the Minute Recording Sheet to confirm that their child read all their logged minutes. This will help to ensure fairness. No guessing minutes.
We will be collecting money through your Parent Portal account. 
What Minutes Count and what doesn't?
Reading before the official start date of Oct. 15th does NOT count
Reading before and after school counts.
Being read to by other people counts, as long as it isn't at school.
Reading aloud to a pet counts. Reading aloud to other people counts. Reading letters & practicing sounds or reading sight words also counts! If you happen to read to someone who is also participating in the Read-A-Thon, it counts for both of you! (as long as it's not in school)
Homework reading counts as long as it is done after or before school.
Reading under the bed covers, with a flashlight, late at night counts (but only if it is okay with your parents).
Reading during class does NOT count.
Here is how the Read-A-Thon Works:
Between Oct. 15th and Oct. 28th, Log reading minutes into your Minute Recording Sheet and Collect pledges from sponsors and log on your Sponsorship Form; you can pay online through your Parent Portal account.
Oct. 26th -28th, Collect any outstanding pledges from your sponsors.
Complete some activities from the "Raise a Reader" (see the last page in this package) & win a prize!
Oct. 29th, Return your Minute Recording Sheet, your Sponsorship Form and fill in the money in your Parent Portal account.
Thank the sponsors who have pledged you by making a Thank You card for them! 
There are Prizes to be Won!
#1 Class with the most MINUTES read will win a $100.00 Book Fair Credit to go towards their classroom library.
#2 Class with the most PLEDGES will win a $100.00 Book Fair Credit to go towards their classroom library.
#3 Post pictures of kids/families reading during the Read-A-Thon on social media @IREC1 on our Facebook page and be entered to win a $20.00 book fair credit for your child.
Record forms were sent home with students. If you need another one click on  this link: Record Form