Back to all posts
Posted on
Blackfalds and Lacombe: Attendance Boundary and Grade Configuration Review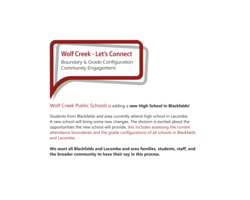 Watch the introductory video above for information on the Wolf Creek Public Schools Blackfalds and Lacombe: Attendance Boundary and Grade Configuration Review.
Wolf Creek Public Schools is adding a new High School in Blackfalds!
Students from Blackfalds and area currently attend high school in Lacombe. A new school will bring some new changes. The division is excited about the opportunities the new school will provide, this includes reviewing the current attendance boundaries and the grade configurations of all schools in Blackfalds and Lacombe. We want all Blackfalds and Lacombe and area families, students, staff, and the broader community to have their say in this process.
How to get started
A survey for public input will open on February 1, 2022
and be open until February 15, 2022. 

FOR MORE INFORMATION AND TO REGISTER
FOR THE PUBLIC ENGAGEMENT
VIA OUR ONLINE PLATFORM 
What will change once the new high school in Blackfalds opens? 
Boundaries for high school students will be redrawn to accommodate the new high school.
What could change once the new high school opens? 
Grade offerings at elementary and junior highs in Blackfalds and Lacombe to ensure sustainable enrolments. High school attendance boundary for Clive area residents.
What won't be impacted by the opening of the new high school? 
French Immersion programming will continue to be offered at schools in Lacombe.