Back to all posts
Posted on
AHS Launches Phone Service for Children's Health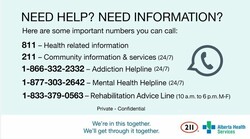 Pediatric Rehabilitation Line offers parents and guardians free advice and guidance.
By calling Health Link at 811, Albertans with concerns about their child's development — including speech, movement and hearing — can be redirected to the new Pediatric Rehabilitation Line and speak with an occupational therapist or another appropriate allied health professional.
The Pediatric Rehabilitation Line provides advice to parents and caregivers of infants, children and youth (birth to 18 years) who have concerns about developmental milestones in areas such as: moving and playing, talking and listening, hearing and more.
Callers to the Rehabilitation Advice Line can also be asked to be redirected to the Pediatric Rehabilitation Line during operating hours: Monday to Friday from 9 a.m. to 5 p.m.
Please see the attached link for full details.
Phone Service for Children's Health