Back to all posts
Posted on
2022-2023 Registration OPENS Jan 4, 2022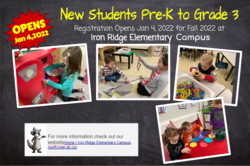 Mark your calendars as Registration for all NEW students Opens January 4, 2022at 9:00am!!!
Click on our Registration Page for full details and directions once it's open
Note: Kindergarten students must be 5 years old by December 31st, 2022 to attend.  We offer a Pre-K program for 3 & 4 year old's.