Back to all posts
Posted on
Programs Available to Families through McMan AHS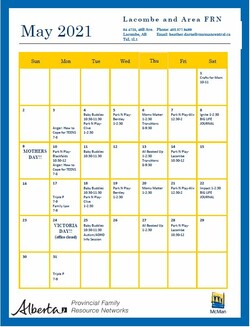 Check out the calendar to see all the upcoming events for Lacombe and area families.  Registration is required for each program.  To register email heather.darnell@mcmancentral.ca
Details of each program:
Family Law Information: (3rd Monday of the month) - Important information (not advice), from paralegal, Ryan McDougall, as you navigate the legal & judicial system. Topic: Custody, Parenting Orders, Access, and Child Support.
PARK N PLAY: Spring is here! Time to get outside and play!
Baby Buddies: Developmental activities, discussion, support, and presenters focusing on babies 0-18 months.
Preschool Pals: Developmental activities, story, games and more for preschool children. Siblings welcome. ***MESSY PLAY will occasionally be incorporated into PRESCHOOL PALS with notice.
Anger: How to Cope for TEENS: Being a teen comes with a lot of change, expectations, and big emotions. This year has added so many extra road blocks, complications and frustrations with COVID. These two sessions are to help teens walk through, and understand their anger, and how to cope in a positive way as they maneuver this time in their life. Facilitator: Carolyn McLaren
Group Triple P: From the start, you'll be given tips and suggestions to fit the needs of your family. You'll see scenes from the Every Parent's Survival Guide DVD, which show you how the ideas work in real life. And your workbook will give you the tools and information you need to start positive parenting right away at home. Heather will guide you every step of the way and even provide backup phone support as you put your new skills into practice. Facilitator: Heather Darnell
Autism/ADHD Information Session: This one hour virtual session will provide you with foundational knowledge of each neurodevelopmental disorder and their respected treatments. You will gain insight into brain function, typical behavior presentation, assessment measures and general support strategies. At the end of the presentation there will be opportunity to ask questions and engage in supportive conversation. Facilitator: Brittany Baker (AHS)
Moms Matter: Come chat about your life as a mom, do some activities just for YOU! Learn some tips, tricks and strategies from each other and our staff.
All Booked Up: 'Girl Wash Your Face' book club.
IGNITE: (age 7-13) BIG LIFE JOURNAL
IMPACT: (age 14-18) BIG LIFE JOURNAL