Back to all posts
Posted on
Registration is Open for Pre-k, Kindergarten and New Grade 1 to 3 Students at IREC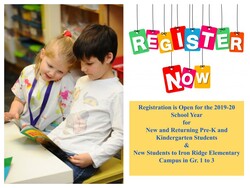 Click Here to register for Pre-K, Kindergarten and Grade 1 to 3 students new to Iron Ridge Elementary Campus for the 2019-2020 school year. 
Returning K-3 Students
All K - 3 returning students are automatically registered for the next year. Parents will receive an email with a link attached in the fall to confirm their personal information.