Back to all posts
Posted on
Registration is Open for Pre-k, Kindergarten and New Grade 1 to 3 Students at IREC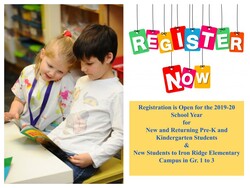 Click Here to register for Pre-K, Kindergarten and Grade 1 to 3 students new to Iron Ridge Elementary Campus for the 2019-2020 school year. 
Returning K-3 Students
All K - 3 returning students are automatically registered for the next year. Parents will receive an email with a link attached in the fall to confirm their personal information. 
This is for all registered Kindergarten students to make an appointment to come to school in small groups the first week of school. The children will meet their teacher, tour the school, and try out some different Kindergarten activities.