Back to all posts
Posted on
Back to School - Staggered Entry K-3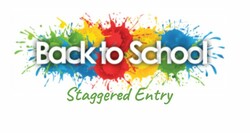 We are excited to have our IREC Families back to school!
Below are days and times of our Staggered Entries for both Kindergarten and Grade 1-3 students:
Kindergarten
**Kindergarten staggered entry days and times will remain the same as planned in the spring.
Kindergarten Staggered Entry Days are Sept. 1-8.  Teachers will be in contact with parents to remind them of their staggered entry times and inform them of designated doors to drop off and pick up.
IREC Grade 1-3 Staggered School times as follows for Sept. 1-3:
**EACH class will be divided into two cohorts--Group A & Group B. Each group will come for three consecutive half days during Sept. 1-3 to allow for small group practice:  
Teachers will be phoning families on August 27th to inform them of the times students are expected to come. Teachers will work with families so that children from the same family will come during the same time slot. Teachers will also include all other details about staggered entry such as where to meet the teacher and location of the class line up spot for drop off. 
Families will have to arrange mid-day drop off and/or pick up for Sept. 1-3. See times below.

Bus students will be able to ride the bus either in the morning OR the afternoon during Sept. 1-3. Supervisors will be in the bus area.

Parents will not be allowed in the school during staggered entry days.
Times for Grade 1-3 Staggered entry during Tuesday, Sept. 1, Wednesday, Sept. 2 and Thursday, Sept. 3:
Gr.1-3 Group A-- Morning Slot
Drop Off-- 8:00 a.m.
Pick up--11:00 a.m.
Gr.1-3 Group B--Afternoon Slot
Drop Off-- 11:40 a.m
Pick up-- 2:40 p.m.
Starting in small groups will help children of this age to feel safe and confident in re-entering school. These staggered entry plans will allow time with small groups to teach new routines and to practice the newly developed safety measures. This will also allow for practice with the staggered recess system that will be in place. Sept. 4 will be reserved for students with extra support and those families will be contacted on August 26th. 
Thank you for your continued support and patience as we re-entry school safely.
Stay IRECstrong